FIRST SESSION ENGLISH LAB
FEBRUARY 18- 22/ 2019
TOPIC: final project I:V#4 valor 20% Creación y desarrollo de un blog
1. Go to weebly.com to create your own blog
we are going to use this blog the whole year, there you are going to write about the topics seen in class,
your feelings, your ideas related to the topics, your critical and analitical reflections.
steps:
1. Go to weebly.com
2. registrate: entra por tu facebook o tu correo
3. escoge creado para hacer un website, click en blog y luego escoge una plantilla
4. Cominza a editar: para esto crea y escribe en el subdominio tu nombre apellido y año : ejemplo: adrianarestrepo2019
5. Comienza a editar tu blog;
Home page: en esta debe aparecer LOS SIGUIENTES TITULOS: MY ENGLISH BLOG,TU NOMBRE Y GRUPO
6. DALE CLICK A LAS PAGINAS Y COMIENZA A CAMBIAR LAS SEMANAS : ASI; WEEK 1, WEEK 2, WEEK 3, WEEK 4, WEEK 5, WEEK 6
7. Cada semana debes escribir una entrada en tu blog reflexionando sobre las experiencias vividas, temas y conceptos aprendidos en las clases de inglés,asi:
WEEK 1; en esta debe aparecer el titulo COLOR MATTERS, TU COLOR FAVORITO Y UN TEXTO BIEN DETALLADO DE ESTE, POR EJEMPLO por que es tu color favorito, que te hace sentir, que significa este color en otras culturas, que significa de acuerdo a la teoria de la sicologia del color, etc. (Incluye imagenes, videos etc)
Week 2: Esta semana debes escribir en tu blog lo relacionado a los colores y los sentimientos. how colors affect your feelings, create a poem, song, story, trova, etc.
Week 3: Esta semana debes escribir tu reflexion sobre el poder del color morado (PURPLE POWER)
Reading :PURPLE POWER pages 16-17 from your book impact 2
Week 4: Esta semana investiga y reflexiona sobre: cúal es la importancia del color en tu vida?, te imaginas que sería de la vida sin color?, qué problemas existirian en un mundo sin color?
How important is color in your life? Can you imagine a life without color? What problems might there be?
Week 5: Esta semana despues de leer sobre la importancia de dormir bien, las vacunas, el ejercicio y la comida saludable escribe tus ideas o reflexiones sobre estos.
video
Week 6: Esta semana de acuerdo a lo escrito por la investigadora Pardis en nuestro libro guia impact 2, reflexiona y escribe:
Pardis says that you have to take care of yourself before you can help others. Do you agree with her? why or why not? How do you balance study and fun in your life? what are your daily responsabilities? what do you do for fun? Do you have enough time for both? Explain
TAREA DEL PERIODO #1 INDICADOR VALORATIVO 10% FECHA: MARZO 18-22
REALIZACIÓN DE UN BOOKLET
TOPIC: HOW IMPORTANT IS THE COLOR IN YOUR LIFE AND ON PEOPLE´S LIVES.
Think of colors you see in everyday objects and in the world around you.Find colorful people, places, and things in your community, take photos of them.
Explain why you took each photo and how the colors make you feel.
(Puedes tomar fotos coloridas de personas, lugares y cosas de tu barrio, comunidad o ciudad,luego vas a escribir sobre estas fotos explicando porque las tomaste y cómo los colores que en ellas aparecen te hacen sentir. En lo posible sube a tu blog algunas de estas fotos).
Read and use the above files in order to get more information to do your booklet .
GRAMMAR
COMPARATIVES AND SUPERLATIVES
VIDEOS
COMPARATIVES CHART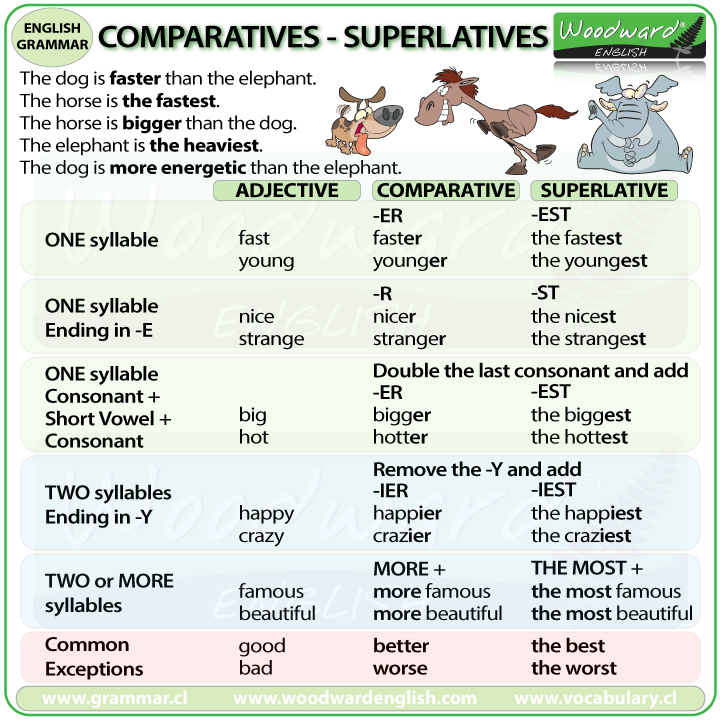 ARTICLE THE
BE READY TO DO
ACCION EVALUATIVA #3 EXPLICA POR ESCRITO Y NARRA BREVEMENTE HECHOS DE UNA FORMA COHERENTE Y SENCILLA. VALOR 20%
Elaboración de un escrito reflexionando sobre los colores y cómo influyen en mi y en mi entorno ( canción, trova, poesia, cuento, historia.etc)
Elaboration of a writing reflecting on colors and how influence me and my environment. (you can create a song, trova, poem, a tale, a story, etc)
Let´s read some useful articles, web pages, images that can be useful for you.
HOW TO CREATE A POEM
HOW TO WRITE A STORY ABOUT COLORS AND FEELINGS